Recent Projects
What is the best way to chose t-shirt sizes for a big event?

When you decide to host a big event, ordering promotional t-shirts for all of your attendees is a surefire way to generate goodwill for your brand and increase your visibility in the local community. Over 58% of consumers in America own promotional t-shirts, and in their lifespan, each t-shirt will generate an average of 2,500 impressions. This makes a t-shirt one of the best-value promos available.
In some situations, you will have all of the attendees' sizes written down, whether it's a group of employees or existing customers. However, whenever you're ordering promotional t-shirts for an unknown audience and don't have a solid number to rely on, choosing the t-shirt sizes can be stressful. Luckily we have a handy infographic to make the process easier.

T-Shirt Sizing Guidelines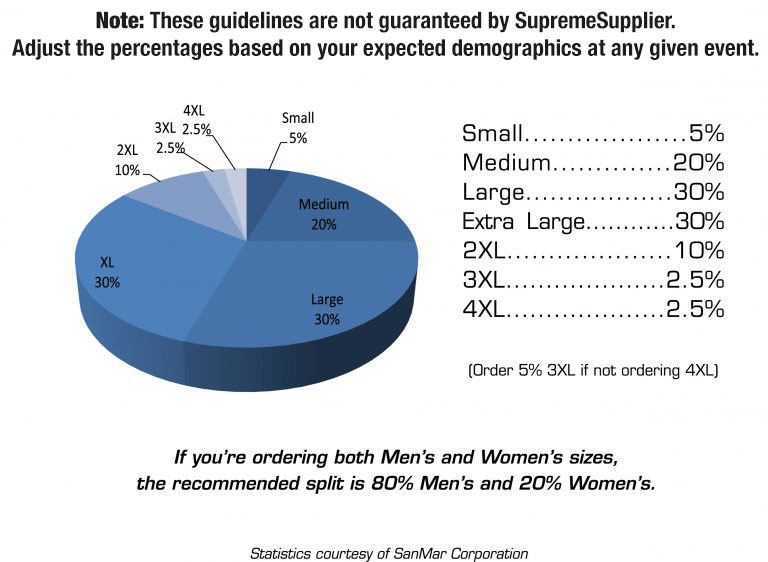 When trying to determine the breakdown of how many shirts to get of each size, it's important to think about it as a percentage of the overall total.

These guidelines give you an idea of the size distribution of t-shirts worn by adults. Simply multiply the percentages by the number of t-shirts you plan on ordering. For example, if you are ordering 100 shirts you will want 5 smalls, 20 mediums, and 30 larges.

These percentages represent a broad generalization, so if you have more information about your expected audience, adjust the sizes you order. If your brand is popular with bulky outdoorsmen and bodybuilders, consider ordering more XL sizes. If your brand connects with petite women, definitely avoid ordering 5% small t-shirts. You get the idea – consider these guidelines as a starting point.
Men's Vs. Women's T-Shirts
When you are ordering "adult" size t-shirts, it generally means they are men's sizes. Depending on the t-shirt brand, type of clothing, and your event, you may want to order both men's and women's sizes. Women's shirts have a taper at the waist for a traditionally feminine silhouette, while men's shirts have a boxier shape and are larger.

When ordering both men's and women's sizes we recommend ordering 80% of men's t-shirts and 20% of women's t-shirts. Many women will still want the roomier men's garments, and this style split will ideally result in fewer leftover promotional tees.
One Size Does NOT Fit All
The exact cut of a t-shirt will vary depending on the brand and style of what you order. T-shirts from Gildan will either be longer, shorter, wider, or slimmer than similar-looking t-shirts from C2 Sport. If you want a tailored look for your promotional tees and you plan on placing a large order, we advise ordering samples of the various sizes.
Trying out the t-shirts before you buy a large quantity will ensure your event goes smoothly. You also want your promotional tees to reflect the professionalism and style of your brand, and ordering samples will guarantee your vision is realized.
Don't Be Afraid to Ask Questions
There are many factors to consider before settling on a size distribution for your promotional clothing. If you decide to order polos, sweatshirts, or outerwear, the sizing recommendations will also shift. Polos and outerwear call for more small sizes than t-shirts.

Don't be overwhelmed by choosing the sizes of your promotional tees — that's what we're here for! When you have a question that requires an expert, simply reach out to SupremeSupplier. We will work with you and recommend the best combination of sizes for your unique event.
This entry was posted in Promotional Products.
---
Recent Projects

Foamcore emery boards are a great giveaway for clients at trade shows (they can be mailed too)! Perfect for any industry. Three (3) colors of sandpaper are available - it's your choice.
---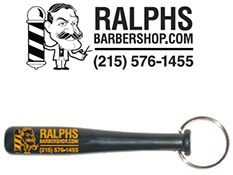 One of our clients hands out these fun and very useful baseball bat key chains to his customers. These plastic baseball bat shaped key tags have a strong metal bottle opener insert. Available in black, brown and white with a 1-color imprint
---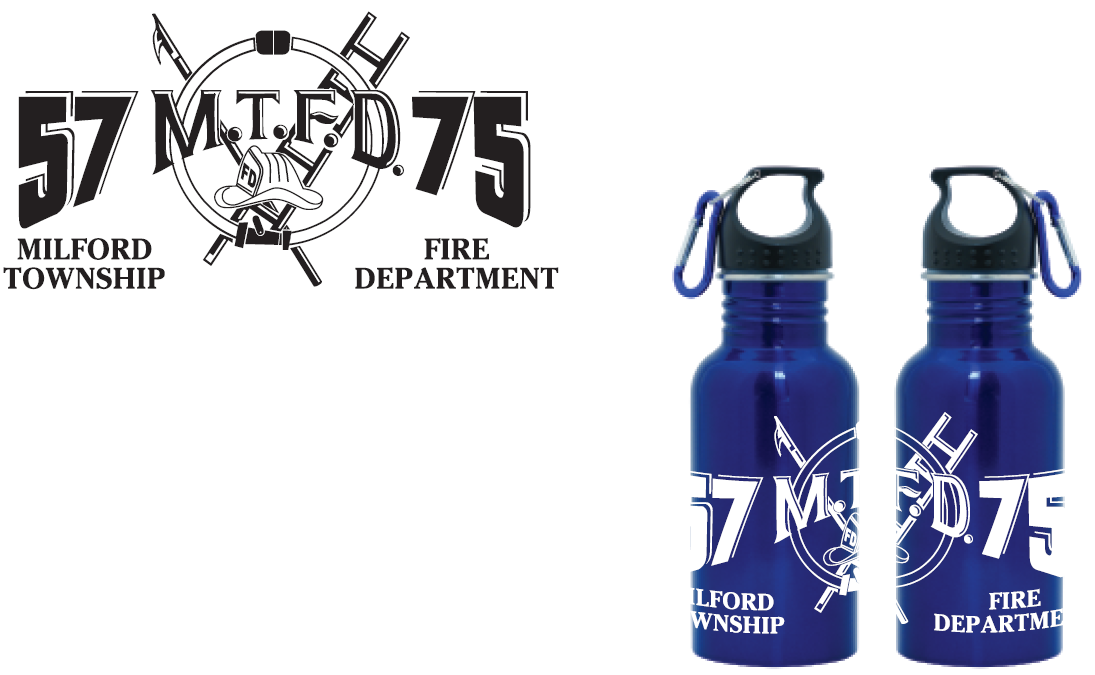 Beautifully printed full wrap waterbottles with carabiners and gift box. They are 18/8 Sta1inless steel construction with a standard Screw top lid and have a wide mouth for adding ice cubes & easy cleaning. Environmentally friendly and BPA free.
---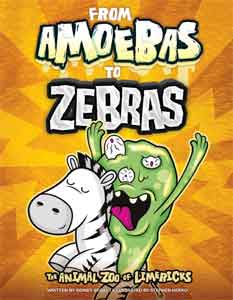 A true delight for the young (and the young at heart) eyes and ears! You will love to listen to these humorous limericks read aloud by former educator Norma Segal, while following along in this beautifully illustrated paperback book. The 26 limerick collection includes true facts about animals from all over the world.
This book is perfect for story time, travel or anytime. This is a fantastic read-along book with an audio CD the whole family will enjoy.
A portion of the proceeds from each book will be donated to children with cancer.
This book is available for purchase at www.amoebastozebras.com
---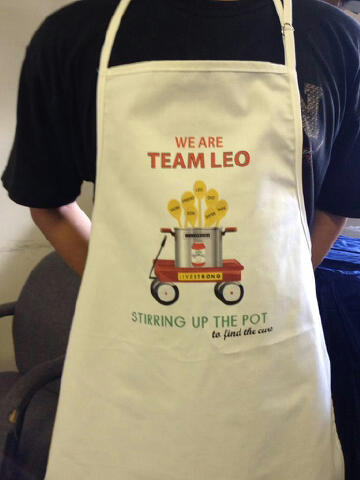 Our client supplied the beautifully designed artwork for these aprons. These aprons are being used for a team that is participating in an event benefiting the charity LiveStrong. The white aprons were custom printed Direct to Garment and will be worn at the event. Accompanying short sleeve t-shirts are being printed now! What a great fundraiser.
---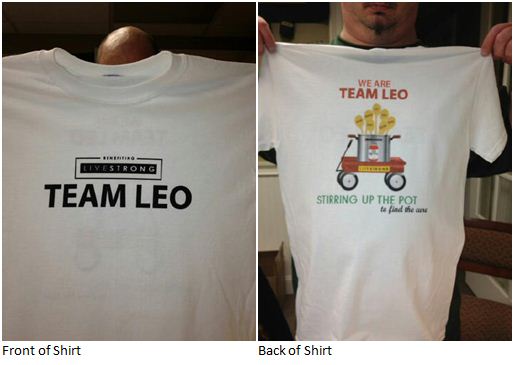 These shirts are being used in conjunction with the aprons showcased above benefiting the charity LiveStrong. The shirts were custom screen printed in one color (Black) on the front of the shirt and printed Direct to Garment on the back of the shirt.
---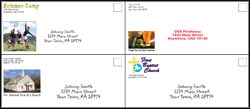 Custom printed (closed face) #10 (4" x 9 1/8") white business envelopes. Envelopes will be printed 4-color process on one side (no bleed). Prices include: Pre-Flight of your supplied file, Digital eMailed Proof, Normal Set-Up and Printing. Window Envelopes, 6 x 9 and 9 x 12 envelopes are also available at an additional cost.
Please contact Ruth at 877-811-6592 if you have questions or need assistance with your order.
---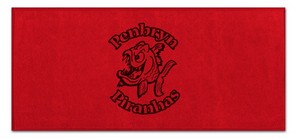 Bring new life to your Swim Team or any team. Colored beach towels are now our largest category of custom decorated towels. With black on color or Tone on Tone decorating, your brand is presented in a compelling, elegant and understated way. Larger than a standard beach towel. 35" W x 60" H. Sell the towels to raise money for trips!
---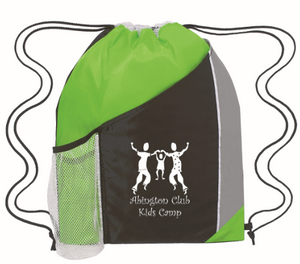 We've got spirit yes we do! We've got spirit, how about you? All the cool kids are using them...very cool sports pack with zippered pockets and a slot for ear buds.

Approximate Bag Size: 13 ½" W x 18" H
Imprint Area: 6" W x 8" H

This bag comes in awesome colors like: Red, Lime Green, Black, Orange, Royal Blue or Carolina Blue, all with Black Trim.
For more information on this bag, click here.